Not to be outdone by the stunning views of Niagara Falls, our award winning 21 Club is big, bold and full of flavour.
Market fresh ingredients highlight refined Canadian cuisine with uncompromising standards for excellence, 21 Club Steak & Seafood is a cut above the rest.
With over 700 of the finest local and international wines, our sommeliers are always on hand to help with pairing, ensuring our guests make a selection that will enhance our Executive Chef's exclusively crafted menu.
Bread Basket $6
Daily Selection
Onion Soup $17
Spanish White Onion, Gruyere Cheese, Croutons
Escargot $24
Parsley Cream, White Wine, Shallots, Garlic, Toasted Brioche
Oysters Fresh Market Selection with Classic Condiments
1/2 Dozen $30 ~ 1 Dozen $60
Oyster Rockefeller $35
6 Oysters, Spinach Cream, Smoky Bacon, Panko Crust
Foie Gras $35
Rhubarb, Strawberry, Pistachios and Toasted Brioche
Shrimp Cocktail $32
3 Chilled Jumbo Black Tiger Shrimp, Lemon, Horseradish Tomato Sauce
Tempura Shrimp $30
2 Jumbo Shrimp, Japanese Dipping Sauce, Jicama & Carrot Slaw, Lemon
Steamed Alaskan King Crab Market Price
1/2 pound or pound Served with Drawn Butter and Lemon or Chile Lime Butter
Kettle Cooked Mussels & Clams $25
Chardonnay, Spanish Sofrito Whipped Butter, Toasted Baguette
Chilled Seafood Platter $46
2 Jumbo Shrimp, 2 Johnah Crab Claws, cocktail sauce, Dijonnaise, Lemon
Chilled Seafood Tower Market Price
6 Oysters, 4 Jumbo Shrimp, Pickled Octopus, 1/2 Alaskan King Crab, 1/2 Lobster, Marinated Mussels and Clams, Seaweed Salad, Sauces
Seared U10 Scallops $34
Beef Bacon, Carolina BBQ Sauce, Melted Leeks, Leek Hay
King Crab $36
Celeriac Remoulade, Chipotle Mayonnaise, Micro Greens
Venetian Osetra Caviar 30g $180
Beluga Caviar 30g $475
Served with blinis, crostini, shallots, chives, egg, sour cream
Plus Taxes
House Salad $17
Little Gem, Radicchio, Cherry Tomato, Cucumber, Pickled Green Beans, Radish Shallot Champagne Vinaigrette
Traditional Caesar Salad $17
Romaine Hearts, Caesar Dressing, Croutons, Crispy Bacon, Shaved Parmesan
Heirloom Tomato Salad $17
Panko Breaded Goat Cheese, Basil, Pickled Red Pearl Onion, White Balsamic Vinaigrette
Wedge Salad $17
Crumbled Blue Cheese, Lardons, Cherry Tomatoes, Blue Cheese Dressing
Plus Taxes
Chilean Seabass $58
Three Bean Salad, Cherry Tomatoes, Summer Squash, Kabayaki Sauce
Dover Sole $68
Green Beans, Almonds, Brown Butter, Capers
Canadian Lobster $98
Butter Poached, Potato Puree, Seasonal Vegetables, Drawn Butter, Lemon
Ontario Farmed Trout $43
Farro Grain, Green Beans, Fried Artichokes, Citrus Hazelnut Oil Emulsion
Plus Taxes
USDA Prime Beef ~ All Steaks are served with Roasted Cipollini Onion, and your choice of one of the following sauces: Chimichurri, Béarnaise, Red Wine, Peppercorn Brandy, or 21 Club Steak Sauce.
Striploin Steak $66
12oz
Striploin Steak ~ Bone In $79
16oz
Bone In Rib Steak $79
16oz
Beef Tenderloin, Centre Cut $68
8oz
T-Bone $100
22oz
Ontario Lamb Rack $69
Mashed Peas, New Potatoes, Mint, Natural Lamb Reduction
Japanese A5 Wagyu Beef $25/oz
4oz minimum - Cut to Order
Roasted Chateau Briand $150
16oz Centre Cut Filet, Forest Mushrooms, Roasted Potatoes, Vegetables, Béarnaise Sauce, Jus
Organic Half Chicken $42
Seasonal Vegetables, New Potatoes, Natural Reduction
Vegetarian Dinner $34
Farro Stuffed Inari Pockets, Grilled Zucchini, Asparagus, Herb Vinaigrette
Plus Taxes
Seared Scallop $10
"Oscar" Crab & Bearnaise $24
Extra Sauce $4
10oz Carribean Lobster Tail $80
Grilled Shrimp $12
Bleu Cheese $7
Fois Gras $26
Buttered Half Atlantic Lobster $45
Plus Taxes
Jumbo Baked Potato $14
Roasted Potato $14
Potato Puree $14
Mac & Cheese $16
Roasted Forest Mushrooms, Shallots & Garlic $16
Seasonal Vegetable Medley $16
Fried Onion Rings with Ancho Ketchup $16
French Fries $16
Asparagus, Lemon Butter $17
Seasonal Grilled Vegetables $18
Plus Taxes
CHEESECAKE
Vanilla Cheesecake, Passionfruit Apricot Glaze, Graham Cracker Coconut Crust $15
DOUBLE CHOCOLATE MOUSSE
Chambord Chocolate Cake, Mixed Berries $15
DESSERT TRIO OF CREME BRULEE, CHEESECAKE, SEASONAL TART
An exquisite sampling of desserts $20
ICE CREAM
Chocolate, Vanilla, Hazelnut $14
SORBET
Raspberry, Lemon, Strawberry $14
Plus Taxes
AFFOGATO $9
AMARETTO CAPPUCCINO $12
AMERICANO $5
CAFÉ LATTE $6
CAFE MOCHA $6
CAPPUCCINO $6
COFFEE $4
ESPRESSO $5
ESPRESSO MACCHIATO $5
ESPRESSO CON PANNA $6
ESPRESSO MARTINI $15
IRISH COFFEE $12
PATRON COFFEE $15
SPANISH COFFEE $12
TEA $5
Gourmet Tea Selection Curated by Tea Squared available. $5
Plus Taxes
Grappa 1.25oz
Amaro, Nonino $14
NoninoFruili $12
Poli Sarpa $10
Prunella Mandorlata Nonino $14
Nonino Riserva 5yr Anniversary $21
Di Camomilla $14
Montanaro Alchimista $14
Poli Grappa Di Sassicaia $30
Cognac & Amagnac 1.25oz
Armagnac De Montal $12
NCourvoisier VS $10
Hennessy VS $13
Hennessy VSOP $17
Hennessy XO $34
Hine 1957 Champagne $88
Louis XIII $280
Louis XIII Black Pearl $2500
Remy Martin VSOP $16
Remy XO $34
Italian Liqueurs 1.25oz
Amaretto Disaronno $9
Averna $9
Frangelico $9
Limoncello $11
Montenegro $9
White/Dark Sambuca $9
Sherries & Ports 2oz
Gould Campbell, vintage, 2000 $17
Taylor Fladgate, First Estate $10
Taylor Fladgate, 10 Year Tawny $15
Taylor Fladgate, 20 Year Tawny $21
Niagara Dessert Wine 2oz
Icewine Vidal, 2016, Sue Ann Staff Glass 12.00 ~ Bottle 84.00
Plus Taxes
​​​​
Location
Enter 21 Club through the Salon Privé on the casino floor. Must be at least 19 years of age to enter the casino.
---
Cuisine
Steak and seafood
---
Attire
Business Casual
---
Payment
Cash, Debit, Visa, Mastercard, AMEX, Gift Card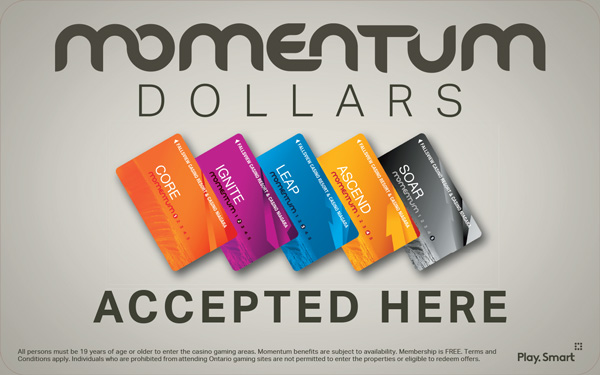 Must be at least 19 years of age to enter.